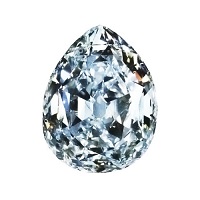 The Star of South Africa is a pear diamond weighing 47.69 carats. It was cut from an 83.50 carat rough stone which was discovered in 1869 by a farmer on the banks of the River Orange. It was also in this area that the Eureka diamond was found.
Schalk van Niekerk, who had been dispossessed of the Eureka a few years before, jumped on the opportunity and traded the diamond against the majority of his estate. It is said that he exchanged it for 500 sheep, 10 oxen, and a horse.
He then sold it almost immediately in the city of Hopetown for $56,000. This sale had a huge impact on the region as it marked the start of the rush of many operators to South Africa.
It was Louis Hond, a tailor, who bought the diamond to make a brilliant, midway between an oval and a pear. He then sold the stone to the Earl of Dudley for $125,000.
The Star of Africa can still be viewed today at the Natural History Museum in London.