South Africa's first diamond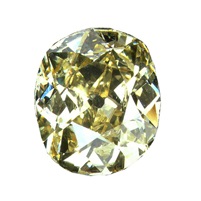 This cushion cut diamond weighing 10.73 carats is not famous for its weight or its quality, but simply due to its discovery ! It was, in fact, the first diamond to have been found in South Africa.
In 1867, a young boy called Erasmus Jacobs found a pretty stone on the banks of the River Orange. Unaware of the nature of this stone, he used it to play jacks.
Later, he gave the diamond to his neighbour, a farmer called Schalk van Niekerk, who collected minerals. Intrigued by the stone, he decided to entrust it to John O'Reilly a travelling salesman. He took it for himself and sent it to the geologist G. Atherstone, who, at that time, was one of the few people to have knowledge of diamond gems in this region.
He concluded that it was a Brownish Yellow diamond weighing 21.25 carats. The Eureka was then sold to Sir Philip Wodehouse for the sum of £1,500. The diamond was exhibited in 1889 at the universal exposition in Paris. It was only later that it was cut into the stone that we now know.
In 1966, the president of De Beers bought the diamond on behalf of his company.