South Africa's most famous diamond : The Cullinan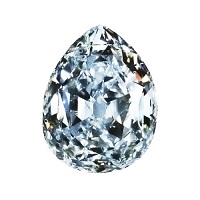 The Cullinan is without a doubt the most famous diamond. Indeed, its weight of 3,160 carats makes it the largest rough diamond ever discovered.
It gets its name from Thomas Cullinan, owner of the Premier mine in South Africa. It was in this mine that the diamond was discovered in 1905. The South-African government offered the stone to Edward VII, King of England, for his 66th birthday in 1907. It was a show of gratitude for their recently acquired autonomy.
Cutting of the stone was confided in Joseph Asscher. In order to guarantee an optimal result, the cutter first practised on copies. On 10th December 1908, he decided to split the stone in three pieces that were then entrusted to the diamond merchant Henri Koe. The Cullinan was thus fractioned into nine huge diamonds and more particularly :
The Cullinan I or Star of Africa, is a pear cut diamond with 74 facets, weighing 530.20 carats. This stone is exceptionally white and pure and adorns the British imperial sceptre.
The Cullinan II, weighs 317.40 ct. It is a cushion cut diamond with 66 facets and is set in England's crown.
They are both exhibited in the Tower of London with all of the British Crown Jewels.