The Sancy, a diamond from India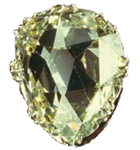 This Diamond weighing 55.23 carats owes its name to its supposed owner, Baron de Sancy, who apparently bought the stone in 1570 in Constantinople.
The only thing that is really sure regarding the origin of this diamond is that it comes from India. Its known history begins in Bruges in 1476 where Lode Van Berkem cut the stone for Charles the Bold, as he had done before with the Florentine.
The Duke of Burgundy died a year later at the battle of Granson. The stone was then stolen along with many other jewels and it wasn't until 1589 that it was rediscovered in Portugal, as part of the King of Portugal's jewels. He had to flee the King of Spain and so pawned the diamond.
It was Nicolas Harlay de Sancy who had received the stone and who finally decided to buy it. Loyal to the king, he offered to pawn the stone to support the war effort.
Over the years, the Sancy then passed from one person to another. Its owners have included the King of England, Cardinal Mazarin, Louis XIV, and finally the billionaire William Waldorf Astor. A few years after the death of his wife, in 1979, the Louvre Museum bought it for display in the Apollo Gallery where it can still be admired.