The Florentine Diamond – The Grand Duke of Tuscany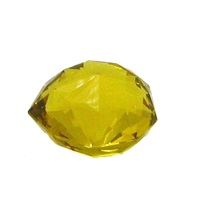 Florentine is the name most commonly given to this diamond of Indian origin, a lemon yellow colourdiamond that weighs 137.27 carats. It is also known as Grand Duke of Tuscany.
It is a rose cut diamond with 126 facets and nine sides. It was presumably cut by Lode Van Berkem for Charles the Bold who lost the stone during the Battle of Nancy. A Swiss person is said to have found the diamond and sold it to a priest for 1 florin, thinking it was a piece of glass.
The diamond then passed from one person to another until it came into the possession of the Duke of Tuscany in 1665. The Vatican bought it under Jules II in order to set it on the Pope's tiara. It was later part of the Habsbourg imperial treasure following the marriage of Duke François de Lorraine to Empress Maria Theresa of Austria.
With the fall of the empire in 1918, Charles I fled to Switzerland and took the diamond and other treasures with him. Nothing more was heard of it from that moment. It is assumed that it was sold in South America at the beginning of the '1920s to be eventually be cut again in the United States.
Although some other diamonds that appeared later on the market were suspected as being from the Florentine, it now seems certain that the diamond has disappeared.